Charging electric vehicles at the workplace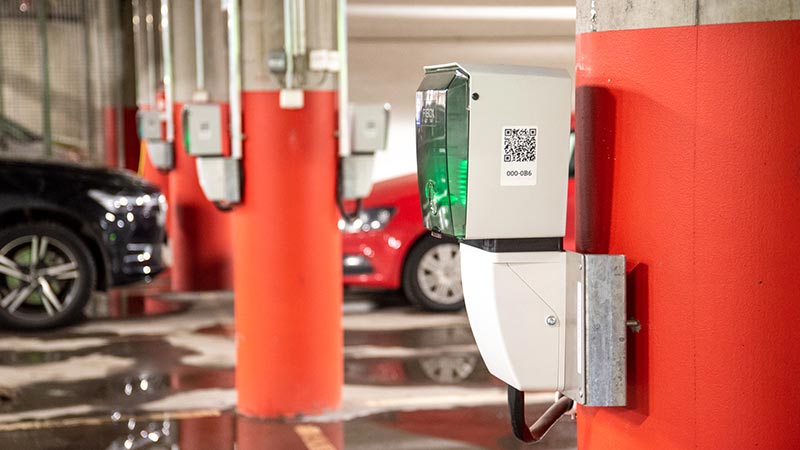 The number of electric vehicles is steadily increasing. For companies, this means that it is a good idea to have electric vehicle charging points available in their parking areas.
The opportunity to charge an electric vehicle during the work day is a benefit that many employees will appreciate. In addition to employees, customers and guests also need charging points.
Scalable charging system
Parking Energy's charging system is designed to be scalable according to the users' needs.
During the installation phase, charging readiness is added to either all or some parking spaces. Thanks to our patented connector system, the parking spaces ready for charging can be quickly and easily used, without large installation costs.
An easy solution for companies
Companies can either purchase or lease the charging devices. In the lease model, the company does not need to worry about the constant development of charging technology. Parking Energy is responsible for the functionality, repair and other maintenance of the charging devices. Outdated devices are affordably upgraded as needed to the latest technology.
All of the charging devices delivered by Parking Energy are subject to constant remote monitoring – including purchased devices.
Flexible invoicing system
Parking Energy tailors charging systems to meet each customer's needs.
The costs of charging electric vehicles can be charged directly to employees and other users, or the employer can offer workplace charging for their employees as a fringe benefit. In this case, the employer withholds the tax value of the charging benefit from the employees who receive it, currently €30 per month.
Request a quote
Request a quote for our comprehensive and easy-to-use charging solution for the needs of companies. With the help of our award-winning connector system, we ensure the charging readiness of parking spaces already during the installation phase.