Charging devices
Parking Energy has a comprehensive range of charging devices designed for charging electric vehicles. Our unique connector system makes the quick and cost-effective installation and maintenance of devices possible.
Devices of different power and even different manufacturers can be connected to the same charging system, and they all work together seamlessly.
Electric vehicle charging devices
In order to make daily life easier, Parking Energy has built an electric vehicle charging service package for drivers, housing companies and businesses. In addition to an affordable monthly fee
(operating cost), you only pay one-time fees for installation and commissioning. The driver pays for electricity according to their actual use.
The range of charging devices is constantly growing with the products of new manufacturers, but with our service, it is easy to upgrade to new and more efficient devices easily and effortlessly. The system also makes shorter service contracts possible, particularly suitable for company and lease use.
All devices are compatible with Parking Energy's connector system.
Smart charging devices also support user-specific metering and property-specific monitoring and power control.
Thanks to Parking Energy's smart systems, housing companies or property managers do not need separate devices for monitoring, and services do not result in any additional fees.
An outdoor electrical outlet that is compatible with a connector can be delivered as is or together with the chosen charging device.
For those who need a higher charging power, our range includes the newest Parking Energy T2Max charging device, suitable for housing companies and businesses. It is the most advanced electric vehicle charging device on the market that has been developed in Finland and comes equipped with Schuko plugs. It is suitable for Finland's harsh conditions.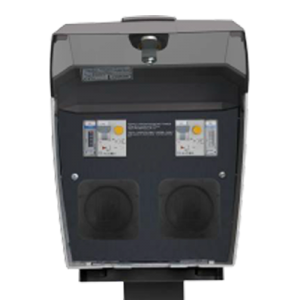 Outdoor electrical outlet with a Schuko Smart Module suitable for charging or heating.
Schuko 3,7 kW (1x tai 2x)
For charging while parked and heating
Capacity for two 3.7 kW Schuko units
Rated current: 16 A: 16 A
Power 3,7 kW
Voltage 230 V.
Designed and manufactured in Finland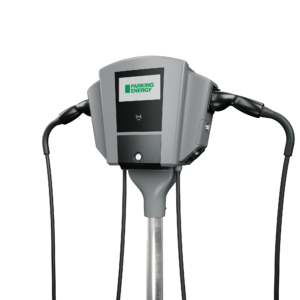 NEW! Parking energy 2x 11/22 kW with Schuko units
2 x 22 kW Type 2 + 2 x  Schuko
Parking and visiting charging
Smart power scale (1.4 kW – 22 kW)
Rated current: 3 x 32 A
OCPP 2.0.1
Power 22 kW per side
Voltage 230 V
Designed and manufactured in Finland