Parking Energy's connector system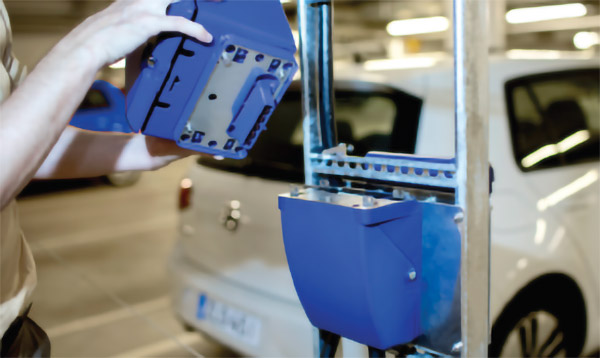 Our connector system is an affordable solution that is suitable for every parking area, through which parking areas and garages can be altered to be compatible with electric vehicle charging.
Thanks to the connector technology, the cabling installed for heating cars can also be used for charging electric vehicles. A traditional electrical outlet and charging devices of different type and power are installed on a utility pole or the wall.
Cabling is handled all at once for the entire parking area, and a connector is installed at each parking space. After this, installing the charging device itself to the connector takes mere minutes. Charging devices can be installed, switched and removed based on the needs of any given time.
The charging solution implemented using Parking Energy's service model frees the property owner from worries concerning electric vehicle charging. With the connectors, the property can prepare for future charging needs in one go, without commitment to devices which will become obsolete.
Benefits of the connector system:
The cabling is carried out all at once, and it is cost effective, simple and easily manageable.
The most important feature of the charging system is scalability.
Adding and removing charging devices is simple and quick.
The connector system and charging point lease model ensure always current charging technology for users.
Parking Energy offers a broad range of compatible charging and heating devices.
Installation of a charging point does not require an electrician.
Performing maintenance on the charging point or switching out the charging device does not cause interruptions in the service.
Read more about electric car charging